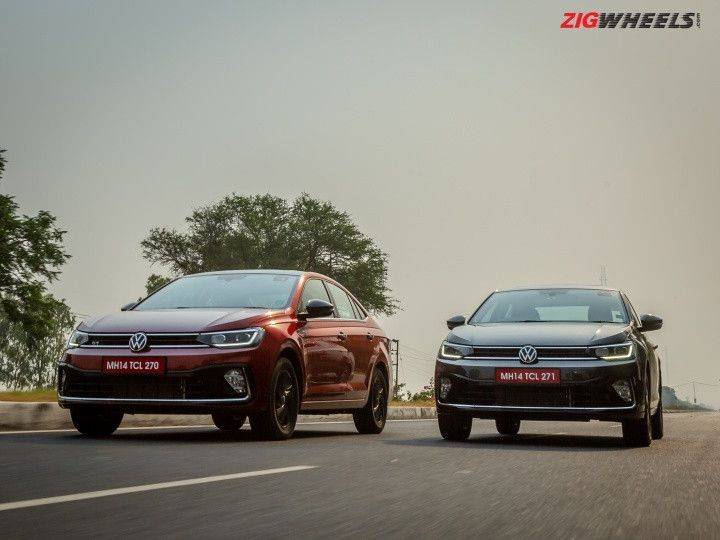 The Volkswagen Virtus made a good first impression at its global premier, managing to be a rare new car launch that most people have unanimously deemed attractive. It may have a lot in common with the Taigun, but by virtue of its body style, delivers a very different kind of appeal. Here's what the Virtus got right and also where it has created challenges for itself.
Smooth Operator

If you eat with your eyes, the Virtus would make you feel full and hungry for more at the same time. VWs make their statements in whispers, not screams and that's exactly what the Virtus does.

There's a broad, chrome-lined air dam that adds a dose of aggression, but like the car it replaces, which is the Vento, the design language is all about keeping things understated and delivering longevity. The Virtus won't look old in a decade's time, since there's a conscious aversion to overstyling anything. It's also unlikely to look spartan in its lower trims, since the standard equipment will be slightly heavier than what its platform cousin, the Skoda Slavia, packs. So, bits like 16-inch (steel) wheels and LED projector headlights will come as standard.

Jump to the side profile and you find that with just a little change, the Virtus can look even sexier. The shape and the way the lines flow, it's all bang on and the car also rides on a good-looking set of alloy wheels. 

But, it's also riding a bit high (ground clearance is approximately 179mm) in the interest of the all important bad road buffer, so just imagine its stance if it rode a bit lower and had 17-inch wheels! With the GT Line's contrast black finishers, the Virtus' side profile is probably its best angle. In the interest of bragging rights, the GT line's badging, black roof, black wheels, black lip spoiler and all the dark/sporty alter ego elements will only be yours if you opt for the 1.5-litre engine. We can't wait to see how the Virtus looks in person draped in yellow, blue or white!

And at the rear, they've gone Jetta! Nothing else to say, it just works, especially with the smoke tinted taillights. Some may have expected exhaust muffler tip-like finishers but it may not have gelled well with the otherwise low-key styling.
Familiar Inside

As you'd imagine, there are some traits the Virtus has in common with the Slavia and the Skoda-VW SUVs based on the MQB-A0-IN platform. Like the Slavia, the Virtus gets a generously sized 521-litre boot with adequate space for large suitcases. The rear seat also splits and folds 60:40 for some more flexibility.

And while it does sit tall for a sedan, the getting in and out won't be as geriatric-friendly as the Taigun. Inside, there's adequate space for four tall users to sit comfortably, especially thanks to the well-defined seat contours. However, it still isn't a very wide cabin, so it's best for the fifth occupant to be a child or slender adult. There's heaps of footroom and the headroom is best suited to people up to 6ft tall, but the Honda City still offers a good few inches more knee room. 

The City's cabin is also more plush and notably so. Compared to the Honda's wood panels and leatherette padding throughout the cabin, the Virtus' cabin feels ordinary. We did not come across any creaky bits or glaring fitment issues, but if you already own a Polo or Vento, the Virtus won't feel like a generational leap ahead – something that can be done with just minor improvements.

The clean and simple design language continues here too and the dashboard's design is similar to the Taigun's. Opt for the red body colour, and you get a red contrast panel on the fascia too. While the Dynamic Line gets a black-beige interior, the GT or Performance line will get black seats with red contrast stitching.

Features include height-adjustable and ventilated front seats, tilt and reach adjustable steering, auto AC with rear AC vents, cruise control and 4 type-C chargers. The 8-inch digital instrument cluster and 10-inch touchscreen infotainment screen will be seen on the higher variants. Aside from wireless Android Auto and Apple CarPlay support and a wireless phone charger to go with them, there are variant-specific lighting themes for both screens as well, i.e., blue comes as standard, with the GT Line going red instead. The 8-speaker music system offers decent sound quality and will be part of the Virtus' standard equipment.
There is room for improvement with the rear camera quality and front parking sensors wouldn't go unappreciated. Safety features include up to 6 airbags, ISOFIX, ESC, tyre pressure warning and traction control.
Driver's Delight?

The engine and transmission set is familiar, comprising two turbo petrol engines. While the 1-litre, 3-cylinder TSI gets 6-speed manual and 6-speed automatic, the 1.5-litre, 4-cylinder TSI will only be offered with the 7-speed DSG automatic. Enthusiasts may find themselves claiming, "woe is me", but with the premium the bigger engine commands, the budget bracket will mostly be defined by auto-box buyers. Fun fact: If you're looking to drive a VW Taigun off the lot with the least waiting period, the 1.5-litre manual is possibly your best shot because VW says it's the version with least demand.
| | | |
| --- | --- | --- |
| Engine | 1-litre | 1.5-litre |
| Configuration | 3-cylinder turbo-petrol | 4-cylinder turbo-petrol |
| Power | 115PS | 150PS |
| Torque | 178Nm | 250Nm |
| Transmission | 6-speed manual / 6-speed automatic (torque-converter) | 7-speed DSG automatic |

The engine that will sell more is the 1-litre TSI. Yes, it is because it'll be priced more attractively and while it may be the smaller engine here, by no means is it a one-trick pony. It's a potent motor whether you're looking at highway driving or city commuting and it's also reasonably refined for a 3-cylinder engine.

There is a little turbo-lag you'll notice off the mark, but it picks up speed quickly and with ease. The 6-speed automatic is also very responsive and smooth with paddle-shifters available, should you want manual control.

With the bigger engine, what you're getting first is an added dose of refinement. The engine does get loud when you push it, but power doesn't taper off as sharply as it does in the 1-litre as you cross 3500rpm. It's also more free-revving and gets to the redline with more eagerness, making it a more exciting car from behind the wheel and one that'll be more competent at highway performance as well. To top things off, it gets cylinder-deactivation for better fuel efficiency and the DSG automatic transmission is buttery smooth between gear changes, offering lightning quick shifts. 

However, while the benefits are tangible, you'd have to decide how much they're worth to you. Compared to the 1-litre automatic, the 1.5 automatic will command a premium in excess of Rs 2 lakh. In a way, the Virtus 1.5 is the version for existing VW owners, especially those coming from the Polo GT TSI or Vento TSI.
Fitness For Porpois  

The Virtus offers good ride comfort. Bump absorption is great and the suspension doesn't crash through nasty potholes or feel particularly noisy while doing it. Not that we encountered a lot of bad patches on our drive through Amritsar.

What we did get are some great tar roads that you can hit high speeds on and the Virtus was sure-footed and fun. While it is set up soft enough to handle rough roads, it doesn't get bouncy at high speeds either. Unfortunately, the roads we were on were about as curvy as a runway, so we didn't get to test the handling enough to really comment on it. On first impressions, the Virtus feels similar to the Slavia on the handling front and there doesn't seem to be a stark difference like we noticed in the Skoda Kushaq and Taigun, where the VW is notably sportier to drive.
Bottomline

In many ways, the Volkswagen Virtus reminds you why sedans still deserve to be considered, especially with the way it looks and performs. While it isn't as plush on the inside as its arch-rival, the Honda City, it is a practical and spacious car that'll suit the needs of most families. The ride and handling mannerisms also feel mature with both engine options delivering a healthy balance of excitement and ease of use. 

At its expected price of Rs 11.5-18 lakh (ex-showroom), the Virtus will be fighting a lot of SUVs. But, before you seal the deal on that high rider, it is worth checking the Virtus out. Maybe that step down into a sedan can be a step up.